DD motor is called direct drive rotary motor, DDR torque direct drive motor. Because of its large output torque, some companies will call it a torque motor. Unlike traditional motors, the strong torque of this motor allows it to be directly connected to the motion device, thus eliminating the need for connecting mechanisms such as reducers, gear boxes, pulleys, etc., so it is called a direct drive motor. The motors are equipped with high-resolution encoders, so the product can achieve a higher level of accuracy than ordinary servos. The DD motor adopts a direct connection method, which reduces the positioning error caused by the mechanical structure and ensures the process accuracy. And it reduces the size error caused by the friction of the mechanical structure, and reduces the noise during use.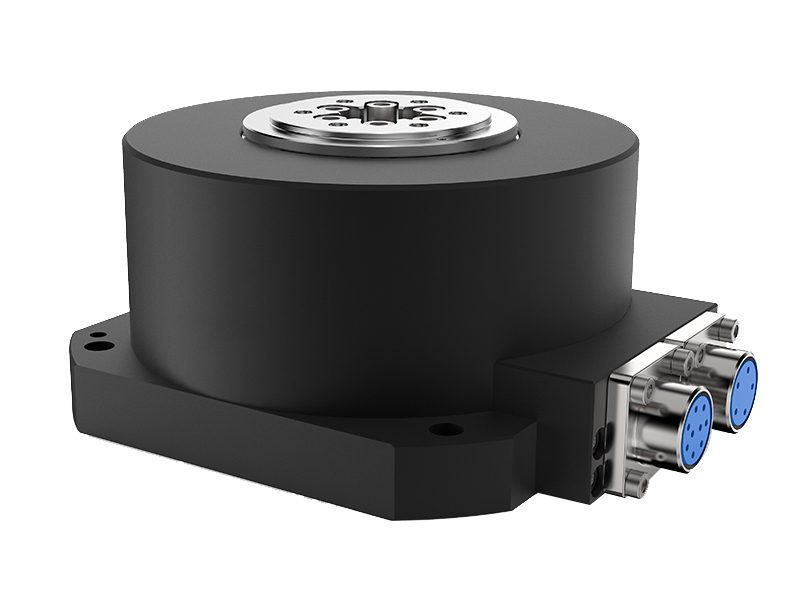 Features and application of DD motor
DD motor has the following advantages:
1. No need to return to origin:
The absolute value encoder is used, and the current position can be recognized without the need for origin reset.
2. High precision:
Each circle can be divided into 220 or 224 pulses, and the positioning accuracy can reach less than or equal to +/-50 arc seconds.
3. High torque:
High torque output in a limited volume, capable of driving large loads at high speeds.
4. High rigidity:
Using cross bearing, large radial and axial load capacity, large static load.
5. No maintenance required:
No need for additional motor maintenance work such as adding lubricating oil.
6. Easy installation:
The load is installed directly, without intermediate accessories such as reducers, pulleys, gears, etc., reducing the time for component installation and debugging.
7. Low noise:
The load is directly installed without intermediate connectors, which reduces a lot of noise during use.
8. Fast response:
The load is directly installed without intermediate connectors, and the response time is fast, and it can be set to a good accuracy in less time.
Application field: Because of its oil-free, dust-free, light weight and small size, DD motors are used in electronics, semiconductors, solar photovoltaics, and automation industries.
- Arbitrary mechanical indexing (not equally divided) device
- High-speed device for frequent handling and turnover
- Wafer dicing and cutting equipment in the semiconductor industry
- IC packaging and testing equipment
- IC welding and dispensing equipment
- Cutting, grinding and laminating of mobile phone screen
- Washing machine
……
To learn more about DD motors, some DD motor parameter terms should be understood
- Max output torque:
The maximum output torque of the motor is determined by the motor current. Unit: Nm=kgm2/sec2
- Rated torque:
Rated torque of the motor at rated speed. Unit: Nm=kgm2/sec2
-Max speed:
The maximum speed available, the torque output at the maximum speed is almost zero. Unit: rpm
- Rated output power:
Motor output at rated speed. unit: W
- Encoder resolution:
Rotary encoder, the resolution of each motor revolution. Unit: pulse/cycle
- magnetic pole:
Each N or S pole is called a magnetic pole
- Pole-pairs:
An N and S are called a pole pair number, the pole pair number of a motor is equal to the magnetic pole divided by 2.
- Positioning accuracy :
The deviation between the angle of any rotation of the motor and the theoretical position under no load, unit: angle·second.
- Repeated accuracy:
The position deviation between the motor rotating an angle multiple times under no load. Unit: angle·second
- Conversion of repeat accuracy and positioning accuracy:
Definition of arc seconds:
1 cycle = 360 degrees
1 degree = 60 minutes
1 minute = 60 seconds
- Axial deviation / radial deviation:
Mechanical deviation when the motor rotates, radial: +/-0.01mm /axial: +/-0.015mm
Deviations below 0.01mm need to be specially made
- Axial load:
The maximum axial load allowed, the motor can return to its original position after the load is removed, including pressure and tension
- Load torque:
The maximum allowable radial load, the motor can return to its original position after the load is removed.
Selection of DD motor:
Please be sure to consider the following 6 factors to choose a direct drive high torque direct drive motor.
1. The load acting on the motor
2. Runout accuracy
3. Positioning accuracy
4. Positioning time (indexing time)
5. Selection of Regenerative Resistance
6. Calculation of effective torque