Introduction of WBK Series Ball Screw Support Unit
Views:2 Author:Site Editor Publish Time: 2021-02-22 Origin:Site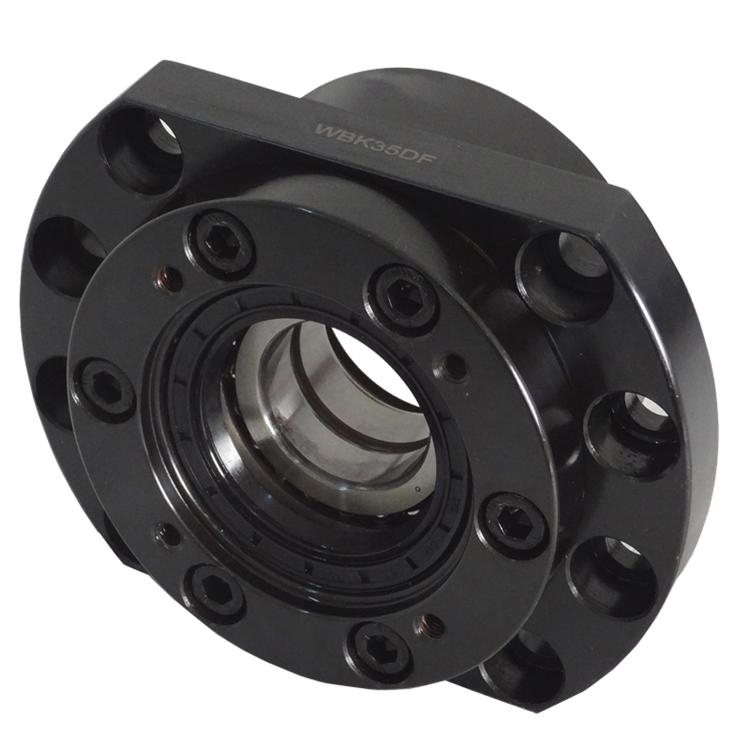 The ball screw support unit is a fixed unit connecting ball screw and motor, which can ensure that the center height of the two ends of the ball screw is the same. Common models are: BK+BF series, EK+EF series, AK+AF series, FK+FF series, WBK series, today we will introduce the WBK series ball screw support unit.
The heavy-duty support unit can mainly carry excellent axial loads. The bearing used in the heavy-duty support unit is a thrust-type angular ball bearing with a contact angle of 60°. Due to the design of the 60° contact angle, the heavy-duty support unit has excellent axial load capacity and axial rigidity.
General working machinery requires better positioning accuracy, so the heavy-duty support unit does not subdivide the accuracy level. High-precision bearings with a rotation accuracy of P4 are used to make the support unit achieve excellent accuracy characteristics.
In order to meet the requirements of larger axial load, WBK heavy load support unit (or screw support unit) is mainly used in work machinery and other equipment, which can carry excellent axial load. The heavy-duty support unit (or the screw support unit) can be divided into three combinations of DF, DFD and DFF. DF is a general form, which can bear both forward and reverse axial loads at the same time; while DFD uses a design of one bearing in one direction and two bearings in the other direction to locally strengthen the axial load capacity in a certain direction; DFF type combination two bearings are used in both directions to enhance the axial load capacity of the direction change. Different combinations have different axial load capacities, and customers can choose the appropriate combination according to their needs.
WBK is a special support unit for heavy-duty screw support unit. The inner diameter of the bearing is a two-digit number in mm. For example, 30 is the inner diameter of 30mm; 35 is the inner diameter of 35mm. There are three types of bearing combination type codes: DF, DFD and DFF.
Through the above introduction, you probably have a simple understanding of the WBK series heavy-duty screw support unit. If you need a 3d drawing or details, please contact us for it, thank you!