Seeing the demand and value of service robots from scientific and technological epidemic prevention
Views:5 Author:Site Editor Publish Time: 2020-09-28 Origin:Site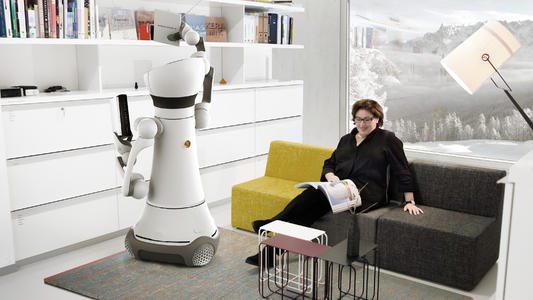 After China has successfully built the first line of defense against the COVID-19, how to integrate and use technological equipment and service systems for various epidemic prevention work is foreseeable will be another new market in the era of new intelligent manufacturing: service robots. Stationing at entrances and exits for body temperature detection, cleaning and disinfection of public areas, and even the delivery of food and beverage supplies in isolated areas, etc. Even after the global epidemic subsides, we will see service robots have begun to enter everyone's lives.
According to estimates by the International Federation of Robotics (IFR), there will be 736,000 professional robots in the global service robot market from 2019 to 2021, with a compound growth rate of approximately 21%. At the same time, as most developed countries are entering an aging and declining birthplace society, service robots equipped with intelligent identification (text, voice, image) and multi-functional vehicles (moving, lifting, and motion) will gradually become popular along with popularization of AI and interaction ability of 5G. In the future, there will be tens of millions of service-oriented robots circulating in various regions around the world to develop various innovative applications.
At present, major countries in the world continue to invest huge resources in the R&D and application of service robots. The United States has proposed the "National Robotics Initiative, National Robotics Initiative; NRI" since 2012, and promoted the "National Artificial Intelligence Research and Development Strategic Plan" in 2016, including the "U.S. Robotics Development Roadmap" and the "National Robotics Initiative 2.0". The overall investment is nearly 100 million US dollars. Since 2014, the European Union has cooperated with the European Robotics Association (Eu Robotics) to carry out the "SPARC" robot development plan. The goal is to promote cooperation with robot supply chain manufacturers in vertical fields. The overall funding scale is about 2.8 billion euros. In Asia, China has proposed the "Made in China 2025" industrial revitalization policy. The "Three-year Action Plan for the Development of the New Generation of Artificial Intelligence Industry" (2018-2020) focuses on the development of service robots, with an investment of nearly US$300 million. Japan approved and announced the five-year "Japan's New Robot Strategy" in 2015. It is expected to invest at least US$900 million in related research and development. Committed to developing Japan as a global robot technology innovation base, and becoming the country with the largest proportion of socially used robots in the world. South Korea released a 10-year "Robot Future Strategy 2022" as early as 2012, and continued to invest at least US$2.6 billion to create a robotics industry ecological chain, with the goal of becoming one of the world's top four robot nations.