Ultra cryogenic treatment
Views:0 Author:Site Editor Publish Time: 2020-12-10 Origin:Site
Ultra-cryogenic treatment is a new process in which the processed parts are placed in a low temperature medium of -196°C and processed according to a certain processing flow. Relevant research results have found that ultra-cryogenic treatment can not only significantly improve the strength and service life of black (non-ferrous) metals, plastics and ceramics, but also improve the uniformity of the structure and increase the dimensional stability. It has huge economic benefits and application prospects in industries such as aviation, aerospace, optics, biology, chemistry, machinery, electronics and light industry.

◎Purpose of ultra cryogenic treatment: The use of low-temperature processing procedures to improve the physical properties (mechanical properties) of metals or other materials, and effectively enhance the service life, quality and efficiency of materials, workpieces or product parts.
◎Benefit analysis of aluminum alloy after ultra-cryogenic treatment:
After ultra-cryogenic treatment, it can improve its parts during processing or after completion:
(1). The structural stress deformation problem caused by the material design shape.
(2). Effectively inhibit the occurrence of aging deformation.
(3). After the mechanical property test, its mechanical strength has been significantly improved, fully displaying the mechanical properties of the material design.
Practical application: After the aluminum alloy-Duralumin is solid-solution treated, ultra-cryogenic treatment and rapid thawing can not only promote aging, but also greatly eliminate residual stress, so the mechanical properties can be improved. There are also data showing that when aluminum alloy castings are subjected to ultra-cryogenic treatment, their machinability will be improved.
Figure Example: Metallographic analysis and comparison of aluminum alloy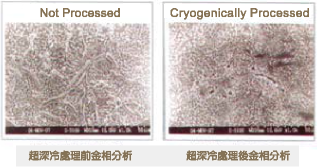 Material

Object parts

Hardness

Wear resistance

Cutting life

Dimensionally stable

Other

SKH

Drill, Cutter

+

+

+

+

The number of tempering is only once is enough

SKD11

Punching and cutting die, punch, shearing knife, rolling knife

+

+

+

+

Prevent grinding cracks

SKD61

Aluminum extrusion die

+

+










SUJ

Slide rail, roller

+

+




+




Penetration parts

Shaft, gear, sleeve, cam

+

+




+

Prevent grinding cracks

SUS

300、420J2、440、630、631

+

+

+

+

Improve corrosion resistance and erosion resistance

marage steel

18%Ni type,25%Ni type

+

+

+

+




+

+

Promote timeliness

Sintered alloy

Tools, nuts, auto parts




+

+

+

Remove residual stress

Cuprum Alloy

Electrode, burner




+




+




Aluminum Alloys

Automated mechanical parts, precision machining, mold manufacturing, electronics and precision instruments, SMT, PC board solder carriers




+




+

Improve machinability